American Diamond Studded Rose Gold Plated Necklace & Earrings Set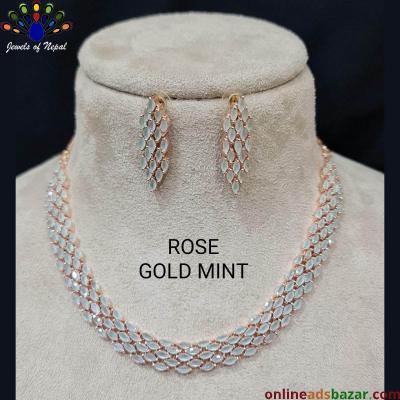 Ad ID: AD_122Co2
571 Views
Description
Add this exquisite jewelry set to your accessory collection to get noticed for your distinct style statement. Wear it with your party or ethnic ensembles and get ready for compliments for your classy look.
Necklace Length: AdjustableEarrings Length: 3.6 cms
Note: 
Set Contains: A Necklace & A Pair Of EarringsOriginal Image: Yes
Material: Copper
Gold/Platinum Plated
Occasion: Party Wear
American Diamond Stone Studded
Care: Clean with a dry cotton swab if required
Size: Please check the description for size
Delivery
Delivery Area
Within my Area
Jewels Of Nepal
Tekhidewal-14
9866430430
If you have any questions regarding to this ad. Please send us your queries.
Safety Tips for buyer
See buying item thoroughly before purchasing.
Never share your financial information.
Always communicate via our internal messaging system. This will help us notify you immediately if we are made aware of any fraudulent activities by the seller.
Contact Us
Online Ads Bazar
+9779841832087
Kathmandu
Useful Links
Copyright © 2020 Online Ads Bazar