High Gold Faux Moti & Cz Stones Embellished Adjustable Necklace Set With Earrings & Maangtika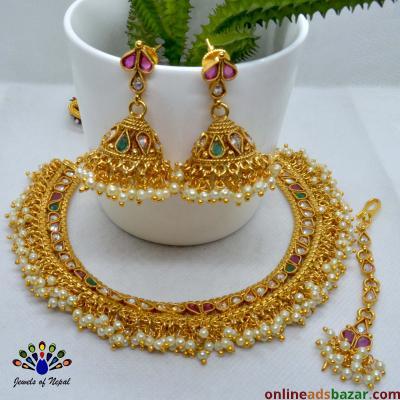 Ad ID: AD_101Ku9
675 Views
Description
Material: Metal with High Gold Plating
Fashion style, makes you look elegant and different
A great gift for your friends and yourself
Attractive And Stylish
Wear: Party/Occasional
A very beautiful Jewellery set for women for wedding season and party. It looks attractive and beautiful if worn with western fashion. Look feminine and trendy by wearing this accessory for women.
Includes:
– A necklace with Adjustable Strap
– A pair of Earrings
– Maangtika
Jewels of Nepal
Lalitpur-14
9866430430
If you have any questions regarding to this ad. Please send us your queries.
Contact Us
Online Ads Bazar
+9779841832087
Kathmandu
Useful Links
Copyright © 2020 Online Ads Bazar